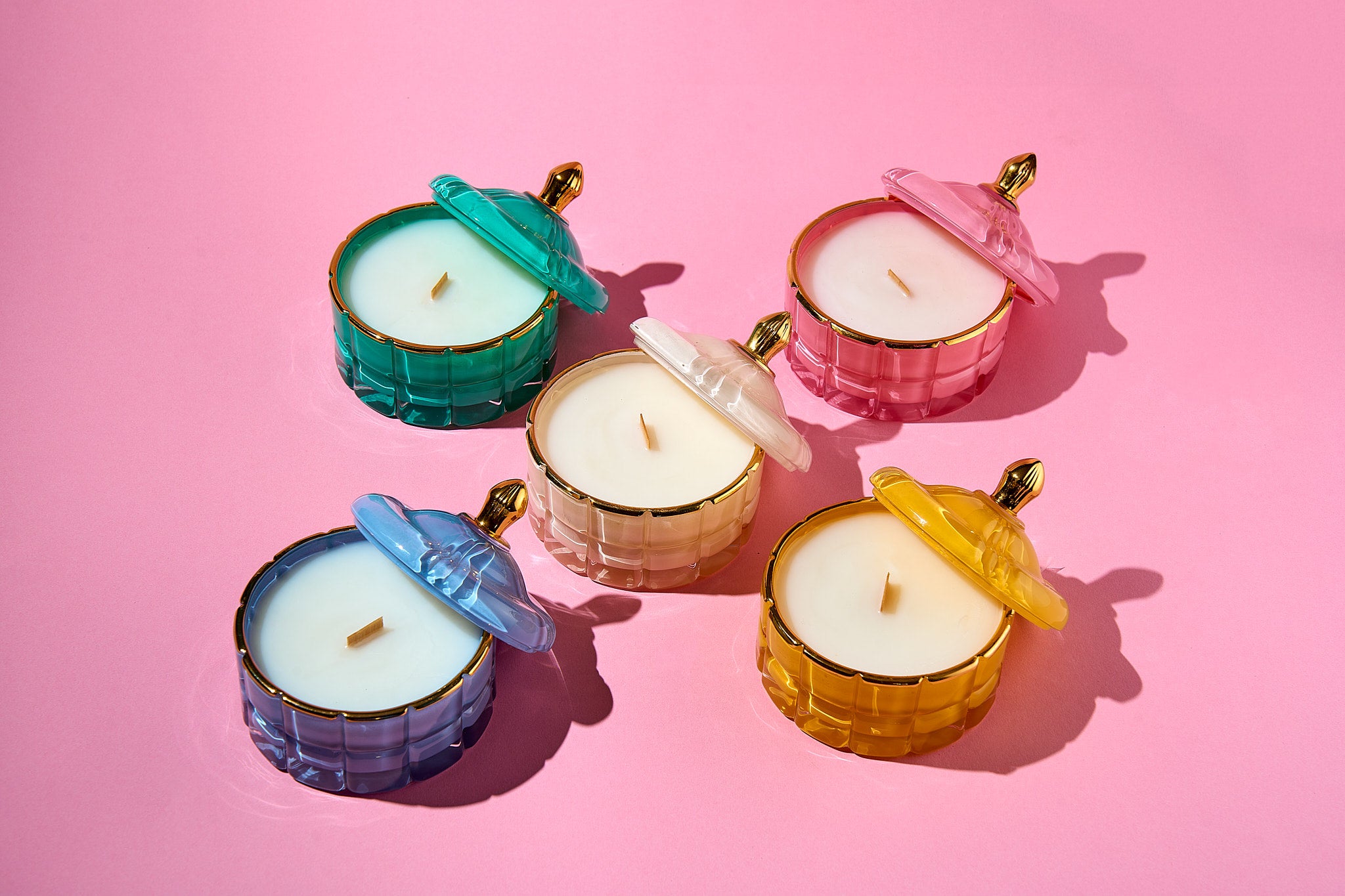 Introducing Luxable 
A new luxury brand that is revolutionizing home fragrance with their first Spring/Summer collection of scented candles. These decorative candles bring a touch of class to your home, creating an atmosphere of elegance and sophistication. With a range of exquisite fragrances and beautiful designs, Luxable's scented candles are perfect for sprucing up any living space. Whether you're looking for a subtle background scent or a more vibrant aroma, this collection has something for everyone. Make your home shine with Luxable's Spring/Summer collection!
The perfect scent for every room
Whether you're looking to create a relaxing ambiance or an alluring atmosphere, Luxable's first spring/summer collection of scented candles has the perfect fragrance blend for every room in your home. Handcrafted using premium ingredients, each candle in this high-end collection is designed to complement your home decor while also providing a unique sensory experience.
For your bedroom, indulge in the opulent and soothing fragrance of lavender and chamomile, which can help promote relaxation and wellness. In the living room, the alluring scent of bergamot and amber can provide a stylish and inviting ambiance for guests. And in the kitchen, the fresh and invigorating fragrance of lemon and rosemary can help create an enticing atmosphere for cooking and dining.
Each candle in this artisanal collection is carefully curated to provide a unique and exclusive signature scent. The fragrances are also gift-worthy, making them perfect for any occasion, whether you're looking to treat yourself or surprise a loved one. And with exquisite packaging and statement pieces that can complement any luxury home fragrance collection, these candles are sure to be a stunning addition to your decor. 
Choose Luxable's spring/summer collection for a premium and indulgent sensory experience that will elevate your home to new levels of luxury.
A luxurious addition to any décor
Luxable's spring/summer candle collection is not only pleasing to the senses but also a luxurious addition to any home decor. The candles come in an exquisite packaging that exudes elegance and class. You'll be proud to display these candles on your shelves or tables. 
The collection features scents that perfectly complement any room in your home. From floral scents like Turkish rose and white musk to fresh and citrusy notes like oranges and lemon, Luxable has created a candle collection that suits all your mood and preferences.
The candles are more than just pretty decor. They also offer aromatherapy benefits that can enhance your luxury lifestyle. You can light a candle after a long day of work and feel the stresses of the day melt away. Or, use them during your yoga or meditation practice to help you relax and unwind.
Luxable candles are an exquisite addition to any room. They offer the perfect ambiance for a luxurious evening in with a book, a glass of wine, and the beautiful scent of your choice. Plus, they make for the perfect gift for any occasion. Who wouldn't appreciate a high-quality candle that looks as good as it smells? 
Invest in Luxable's spring/summer candle collection, and you'll quickly discover how these scents and stylish candles can elevate your home decor and help you create a more luxurious lifestyle.
The perfect gift for any occasion
Looking for the perfect gift that's sure to impress? Look no further than Luxable's first spring/summer collection of scented candles. Each candle in this exquisite collection is hand-poured and crafted with the finest ingredients, ensuring a long-lasting, high-quality fragrance experience.
But Luxable's candles aren't just a delight for the senses - they're also a treat for the eyes, thanks to their exquisite packaging. Each candle comes in a sleek glass vessel that looks just as lovely as the fragrance it contains. With a variety of scents to choose from, there's a perfect gift for any occasion, whether you're celebrating a birthday, a wedding, or just looking for a thoughtful way to say "thank you."
And of course, you don't have to wait for a special occasion to treat yourself (or a loved one) to one of these luxurious candles. The perfect way to unwind after a long day, Luxable's candles are the ultimate indulgence. So why wait? Explore the collection today and discover your new favorite scent.
The perfect way to relax and unwind
There's nothing quite like the soothing glow of a candle to help you relax after a long day. Luxable's first spring/summer collection of scented candles not only fills your home with exquisite fragrances, but they also create a peaceful atmosphere perfect for unwinding. 
Our "2 / 2" approach ensures that every scent is perfectly balanced, creating an immersive sensory experience that allows you to escape the hustle and bustle of everyday life. Each candle is crafted with care using only the highest quality ingredients, resulting in a burn time of up to 40 hours. 
With scents like Lavender Fields, Ocean Breeze, and Summer Garden, you're sure to find a fragrance that transports you to your happy place. So whether you're snuggled up with a book, enjoying a glass of wine with friends, or taking a long, luxurious bath, Luxable's candles are the perfect way to add a touch of luxury to your relaxation routine. 
Don't settle for a mediocre candle experience – upgrade to Luxable and experience the 2 / 2 difference for yourself. Our candles are not only a feast for the senses but also an exquisite addition to any home. Treat yourself or someone special to the gift of relaxation with our luxurious scented candles today.